Get Your Virtual Pass For Sellers Summit 2023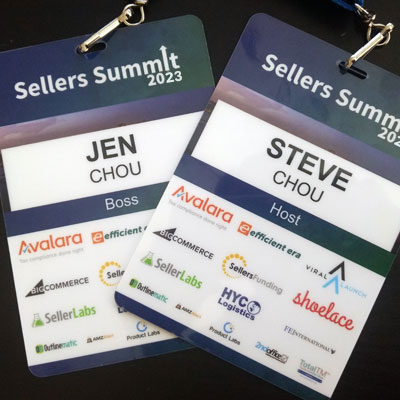 Is traveling to Ft.Lauderdale for the Sellers Summit 2023 just not an option for you this year? What if you could
catch ALL the conference sessions at your convenience
without any travel expenses or the need to replicate yourself? The good news is now you can!
We're happy to announce the Virtual Ticket to the Sellers Summit 2023!
For a fraction of the cost of a regular ticket, you'll get full access to the recording of EVERY session. Yes, every keynote, all the breakouts, workshops and every great session–the ones people travel thousands of miles to see–will be at your fingertips.
With your Virtual Ticket, you'll have access to the online recordings of everything. You can watch playbacks from your computer, tablet or smartphone at your leisure.
Note: Attendees of the physical conference get this at no added cost!
How the Virtual Ticket Works
Studies show people who further their professional development are more successful, reach their business goals faster, enjoy their work more, build better relationships and earn a higher income!
Watch the sessions at your own pace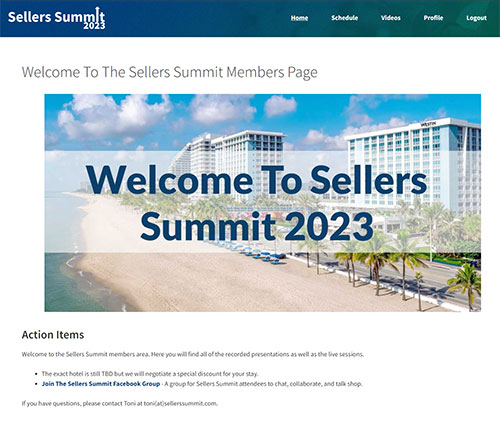 When you register for a Virtual Ticket to the Sellers Summit, a unique ID and password will grant you access to all the session recordings.
You simply login, select the session you'd like to watch and click play. You'll see the same sessions that live attendees experienced. You can also download a PDF of each slide deck for further study.
Listen to sessions on the go
We'll also provide downloadable audio MP3 files you can take with you.
This means you can learn while you drive, work out or are on-the-go.
Designed to fit your busy schedule
The Virtual Ticket was created for your convenience. That means we built it to accommodate your busy schedule. You can pick and choose what to watch, whenever you want to.
Not Your Ordinary Conference
The 2023 Sellers Summit offers a curriculum-based experience where you will learn practical, up to date and actionable ecommerce strategies that actually work. And you'll get access to successful entrepreneurs who are deep in the trenches and proficient at their craft.
The main purpose of the conference is for us to teach and for you to learn. I don't even want to call it a conference.
It's more like an intense 2 day workshop.
After all, would you rather come to an event and listen to a bunch of random entrepreneurs tell inspiring stories about their past or would you rather come away with real, actionable strategies that will actually make you money?
The Sellers Summit is the ultimate "ecommerce learning conference" for entrepreneurs where you will get inspired not by stories, but by gaining all of the knowledge required to run your own successful ecommerce business
All of the sessions are...
All content, no pitches. This is a content rich event! The objective is to learn...not to buy.
Given by expert ecommerce veterans who are proficient at their craft
Focused on a specific topic. The training will be delivered in short, 45 – 60 minute modules with ample time allowed for questions and discussions.
The Content Can Be Applied Immediately
As I mentioned above, the main purpose of the Sellers Summit is to learn and not to listen to a bunch of successful entrepreneurs discuss their past successes.
As a result, all of the recorded sessions provide you with practical and actionable content that you can implement immediately to improve your ecommerce business.
For example, Ryan got his money's worth for the entire conference from just a single talk.

Here's what other attendees had to say.
I'm totally new to this. I liked how every speaker kept to practical discussions.
Speaker line up was diverse AND everyone EXCELLENT!!
I loved the fact the speakers were told to give ACTIONABLE action. Not just fluff and theory. Super!!!
Sellers Summit Sessions For 2023

Forget Facebook! How To Use Google Performance Max Campaigns To Grow Your Ecommerce Business - Brett Curry
With Facebook ads getting more expensive and harder to target customer online, Brett Curry of OMG Commerce will teach you how to leverage Google Performance Max ads to sell your products online.
Escape Amazon's Iron Grip: How to Create a Thriving E-Commerce Store Without Amazon Holding You Back! - Steve Chou
Selling on Amazon is getting harder every year. In this session, Steve will unlock the key pillars to building a wildly successful online store without relying on Amazon's platform.
The Email Marketing Playbook For Top 7, 8 and 9 Figure Brands - Toni Herrbach
In this session, Toni discusses the most effective email strategies that she uses for her 7 and 8 figure clients.
Advanced Amazon Keyword Strategies That Will Double Your Traffic and Conversions - Brandon Young
Your Amazon listings are probably not as optimized as you think. In this session, Brandon shows you how to find obscure keywords that will dramatically grow your sales.
The Underground Playbook For Running Profitable Amazon PPC Ads - Mina Elias
Mina runs Amazon PPC campaigns for hundreds of 7 and 8 figure clients. In this session, he reveals his entire playbook that you can copy for your own Amazon business.
Instantly Grow A Powerful Brand With This 6 Week Strategy- Alicia Reynoso
Alicia managed to grow her water bottle business to 8 figures by creating a powerful brand in just 6 weeks with this challenge strategy.
10 Cutting-Edge AI Techniques to Revolutionize Your eCommerce Business - Mike Jackness
Discover the untapped potential of AI and ChatGPT to revolutionize your eCommerce business and skyrocket your sales.
The Exact Steps You Must Take If You Want To Sell Your Business In 2-3 Years - Quiet Light
If you want to sell your business, you have to plan ahead. Follow this 2 year plan to get top dollar for your ecommerce brand.
How I Bootstrapped Solo Stove From Garage to 2 Billion Dollar IPO - Spencer Jan
Join Spencer as he reveals the secrets behind Solo Stove's crazy growth story. You'll learn how to effectively apply these marketing principles to grow your ecommerce business.
How to Make (and Save) More Money - Everything I've Learned About Finance for Ecom After 10 Years and $100M Sold - Bill D'Alessandro
In this session, Bill will teach you how to effectively use debt to optimize your cash balance and the proper financial metrics to track for your business. This is a must attend session to learn how to manage your cash flow.
What's Old Is New! How To Leverage This Old School Marketing Strategy To Dramatically Grow Your Sales On Autopilot - Mike Epstein
Email marketing is saturated and advertising is getting more expensive. This little used marketing strategy will increase your profitability.
How To Win At Influencer Marketing Without A Large Budget - Natalie Mounter
In this talk, you'll learn how to win at influencer marketing with an easy to follow strategy that won't break the bank.
How To Leverage A Team Of Amazon Influencers To Launch Your Next Product - Liz Saunders
With Amazon cracking down on incentivized reviews and rebates, the best way to launch a new product is by driving outside traffic. In this session, you'll learn how to attract Amazon influencers to sell your product for you.
How To Use The Conversation Method To Create Content Your Audience Wants And Needs - Chris Shaffer
In order to create a strong brand, you have to create content to build an audience. In this session, Chris will teach you the conversation method to make sure you attract the right audience for your business.
How To Use Facebook Ads And Chatbots To Attract Profitable Leads - Andrea Deckard
In this hands on workshop, Andrea will guide you through how she combines Facebook ads with Manychat to drive profitable leads for her clients. Bring your laptop for this one!
Forget China! Learn How To Source Products From India, Avoid The Tariffs And Get High Quality Products For Less - Meghla Bhardwaj
In this presentation, Meghla will walk you through the ins and outs from sourcing from India and the types of products they make that are better than China.
How To Win At Walmart - John Seratt
In this presentation, you'll learn the ins and outs of selling on the Walmart Marketplace to diversify your revenue.
The Exact Steps You Must Take If You Want To Sell Your Business In 2-3 Years – Brad Wayland
If you want to sell your business, you have to plan ahead. Follow this 2 year plan to get top dollar for your ecommerce brand.
Profitability Lessons From Successful Sellers' Mistakes – Jungle Scout
Join Jungle Scout for an eye-opening presentation that explores the often-overlooked profitability mistakes that even the most successful sellers make.
Live Selling Workshop – Tiffany Ivanofsky
Learn the art and science of live selling your products online like QVC and HSN
Going The Distance – Closing Keynote With Dana Jaunzemis
Make sure you watch Dana Jaunzemis' closing keynote! Watch this until the end.
Current Pricing
If you were to attend the live Sellers Summit 2023 featuring a lineup of world-class experts the cost would be $999. And that doesn't include the added costs of travel and lost work time! Not with the Virtual Ticket!!
With a Virtual Ticket to The Sellers Summit 2023 you have no costs for travel, meals, hotels, cars or lost time! Why? Because it's an online virtual ticket.
PRICE: The registration fee for a Virtual Ticket is just $497. That's less than $25.00 per session!
All virtual tickets go up in price in...
ALL-ACCESS VIRTUAL PASS
$497 $399
Full Access HD Video Recordings of EVERY Session
Access To Audio Recordings In MP3 Format
ONLY 50 TICKETS AVAILABLE AT THIS PRICE
Common Questions Answered
Are the sessions streamed live?
To keep the costs exceptionally low, we'll be recording the sessions, editing them and begin posting them within 2-3 weeks following the live event.
Where is the event located?
At your home or office. Because this is a virtual ticket, there is no physical venue and no travel expenses.
How long are the sessions?
Most of the sessions are 45 minutes in duration.
Can I purchase just a single session?
You can watch any or all of the sessions. However, a virtual ticket is like a Disneyland ticket: you get access to everything.
What if I still have questions?
You can send an email to toni@sellerssummit.com and we will get back to you right away.
What if I already purchased a physical ticket to Sellers Summit 2023? Do I get a free virtual ticket?
Yes, registered attendees of The Sellers Summit will receive special access instructions after the event.